This web application uses cookies and other tracking technologies to ensure you get the best experience.
SC/67B/CMP/02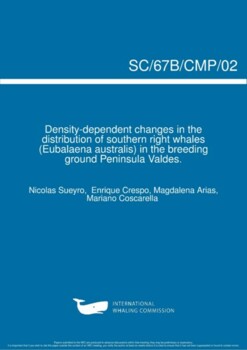 Document Number
SC/67B/CMP/02
Full Title
Density-dependent changes in the distribution of southern right whales (Eubalaena australis) in the breeding ground Peninsula Valdes.
Author
Nicolas Sueyro, Enrique Crespo, Magdalena Arias, Mariano Coscarella
Publisher
International Whaling Commission
Abstract
Southern Right Whales (Eubalaena australis) is experiencing a population growth in the South-western Atlantic Ocean. In the breeding ground of Peninsula Valdés, as a consequence of the population increase, expansion to new areas and a change in the habitat use of the coastal area were recorded. Also, as a consequence of population increase changes in distribution and density in the core area are suspected. We analyzed information that was gathered from aerial surveys developed along the coast of Peninsula Valdés for 19 years. These surveys were divided into 4 periods. A geographical analysis of 620 km of coast revealed that in 5 km-length segments the density of whales increased to a maximum near to 3 whales per km2. This figure is proposed as a threshold that elicits a density dependence response, where the Mother-calf pairs remain in the area, while the other groups decreased their density, forcing them to move to other areas.
Search for similar resources