This web application uses cookies and other tracking technologies to ensure you get the best experience.
SC/68B/SH/06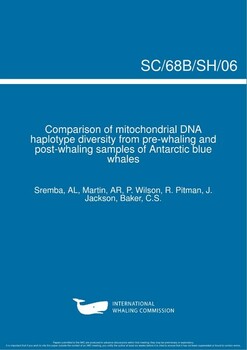 Document Number
SC/68B/SH/06
Full Title
Comparison of mitochondrial DNA haplotype diversity from pre-whaling and post-whaling samples of Antarctic blue whales
Author
Sremba, AL, Martin, AR, P. Wilson, R. Pitman, J. Jackson, Baker, C.S.
Publisher
International Whaling Commission
Abstract
Here, we compare mtDNA diversity between contemporary Antarctic blue whales represented by biopsy samples collected during IDCR/SOWER cruises (n= 183 individuals) and historical Antarctic blue whales as represented by bones from the South Georgia (SG) and the western Antarctic Peninsula (AP) (n = 30 bones). We provide further evidence of regional differentiation of mtDNA haplotypes and loss of haplotype diversity most likely as a result of local extirpation. The recent collection of biopsy samples from blue whales near South Georgia provides an opportunity for a direct comparison of recovery or re-colonization.
Search for similar resources