This web application uses cookies and other tracking technologies to ensure you get the best experience.
SC/68D/HIM/05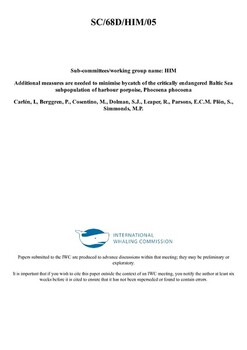 Document Number
SC/68D/HIM/05
Full Title
Additional measures are needed to minimise bycatch of the critically endangered Baltic Sea subpopulation of harbour porpoise, Phocoena phocoena
Author
Carl?n, I., Berggren, P., Cosentino, M., Dolman, S.J., Leaper, R., Parsons, E.C.M. Pl?n, S., Simmonds, M.P.
Abstract
The Scientific Committee of the IWC has recommended that urgent actions are needed to minimise fisheries bycatch and allow the Critically Endangered Baltic Sea harbour porpoise?subpopulation to recover from the current estimated number of approximately 500 animals. In February 2022, a Delegated Act?under the EU Technical Measures Framework came into effect, closing static net fisheries in some Natura 2000 areas and other areas deemed as important for the Baltic harbour porpoise. In addition, the use of pingers was mandated in some other MPAs. However, according to the ICES scientific advice published in 2020, these closures by themselves are not sufficient, as mitigation measures need to cover the entire population range in order to be effective and to meet the legal requirements and allow the population to recover.

This paper further explores this situation and provides some recommendations.
Search for similar resources