This web application uses cookies and other tracking technologies to ensure you get the best experience.
SC/68D/HIM/17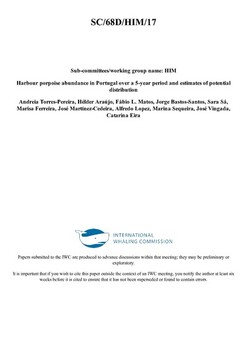 Document Number
SC/68D/HIM/17
Full Title
Harbour porpoise abundance in Portugal over a 5-year period and estimates of potential distribution
Author
Andreia Torres-Pereira, H?lder Ara?jo, F?bio L. Matos, Jorge Bastos-Santos, Sara S?, Marisa Ferreira, Jos? Mart?nez-Cedeira, Alfredo Lopez, Marina Sequeira, Jos? Vingada, Catarina Eira
Abstract
The Iberian porpoise population is small and under potentially unsustainable removal by fisheries bycatch. In Portugal, an exclusively marine SCI was legally approved in 2019 but no measures ensued to effectively promote the conservation of porpoises. Information about
abundance and distribution of porpoises is fundamental to guide any future conservation measures. In this study, we present data from aerial surveys replicated annually over a 5-year period in the Portuguese coast. The overall porpoise abundance and density estimated between
2011 and 2015 (2254 ind.; 0.090 ind/km2, CV=21.99%) are low. The highest annual porpoise abundance and density estimates were registered in 2012 (2995 individuals, 0.120 ind/km2) and 2013 (3207 individuals, 0.128 ind/km2). However, abundance and density estimates in 2014 were approximately half the values obtained in the previous year. The high number of strandings detected in 2014 is indicative of an increase in mortality. Considering 2015 data and SCANS III data (2016), density and abundance values remained lower than values estimated
in 2012 and 2013. Our study confirms that an important part of the Iberian harbour porpoise population occupies Portuguese coastal waters. Also, the overall habitat suitability is particularly higher in the northern area of the Portuguese coast where coastal fisheries are very
important socio-economic activities. The environmental variables used in the habitat suitability analysis suggest changes in porpoise potential distribution across the study period. These results emphasize the importance of further porpoise population assessments to fully
understand the spatial and temporal porpoise habitat use in the Iberian Peninsula as well as the urgent need for on-site threat mitigation measures.
Search for similar resources