This web application uses cookies and other tracking technologies to ensure you get the best experience.
SC/68D/E/14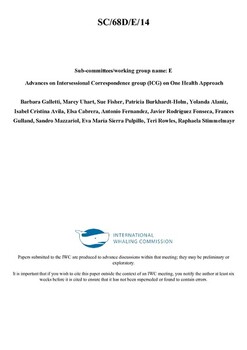 Document Number
SC/68D/E/14
Full Title
Advances on Intersessional Correspondence group (ICG) on One Health Approach
Author
Barbara Galletti, Marcy Uhart, Sue Fisher, Patricia Burkhardt-Holm, Yolanda Alaniz, Isabel Cristina Avila, Elsa Cabrera, Antonio Fernandez, Javier Rodr?guez Fonseca, Frances Gulland, Sandro Mazzariol, Eva Mar?a Sierra Pulpillo, Teri Rowles and Raphaela Stimmelmayr
Abstract
The ?One Health? concept summarises an idea that has been known for more than a century: animal health,
human health, and environmental health are intrinsically intertwined and interdependent. The health of one
affects the health of all. Thus, One Health approach can be implemented as a collaborative global approach to
understanding and managing risks for planetary health and encouraging a more sustainable ecosystem balance.
At the IWC Scientific Committee meetings in 2019 and 2020, in discussions related to Pollution 2025, the
Committee stressed ?the importance in addressing these stressors through a One Health approach? (IWC, 2020)
and that ?multidisciplinary studies were needed (...) and the approach should reflect the principle of One Health?
(IWC, 2019). In 2021, the Scientific Committee received the report on the recommendations of the international
series of webinars ?The IWC after COVID-19? concerning the importance for the IWC to apply a One Health
approach into its framework and actions. The Scientific Committee recommended ?developing specific
recommendations on how the One Health approach can be operationalised in the Committee and its subcommittees
to facilitate the protection and health of cetaceans and marine ecosystems?, and established an
intersessional correspondence group (ICG) on One Health (IWC, 2021).
Search for similar resources