This web application uses cookies and other tracking technologies to ensure you get the best experience.
SC/68D/HIM/16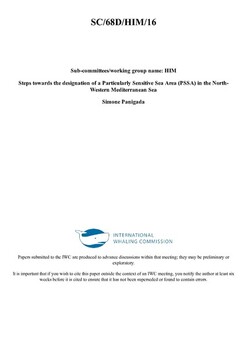 Document Number
SC/68D/HIM/16
Full Title
Steps towards the designation of a Particularly Sensitive Sea Area (PSSA) in the North-Western Mediterranean Sea
Abstract
This paper briefly describes the past, current and future steps which will lead to the discussion at the International Maritime Organization (IMO) of a Particularly Sensitive Sea Area (PSSA) proposal for the North-Western Mediterranean Sea. The different steps which took place since 2016 are presented, with a short summary of the various dedicated meetings and workshops.
A draft proposal, following the IMO guidelines, is currently under discussion and negotiation between France, Italy, Monaco and Spain and it is expected to be ready for stakeholders? meetings in May 2022. The final goal is to present a PSSA proposal at IMO MEPC 79 in December 2022 for their consideration.
The proposal considers the boundaries of the PSSA and several tentative associated measures do be discussed with stakeholders next May.
Search for similar resources