This web application uses cookies and other tracking technologies to ensure you get the best experience.
CC/68A/06.4.2/01Rev1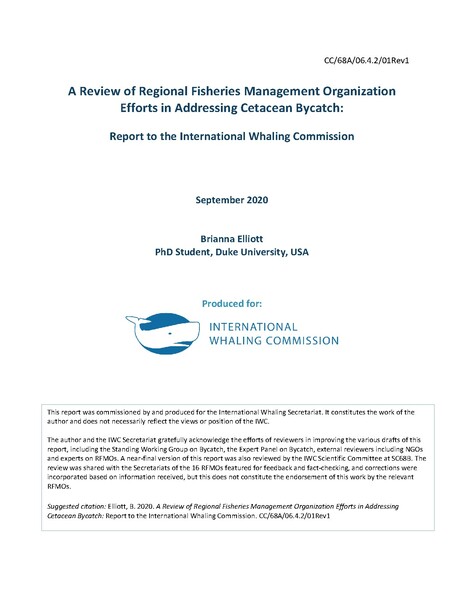 Document Number
CC/68A/06.4.2/01Rev1
Full Title
A Review of Regional Fisheries Management Organization Efforts in Addressing Cetacean Bycatch: Report to the International Whaling Commission Rev1
Document Type
Meeting Document
IWC Body
Conservation Committee
Notes
This report was commissioned by and produced for the International Whaling Secretariat. It constitutes the work of the author and does not necessarily reflect the views or position of the IWC.
The author and the IWC Secretariat gratefully acknowledge the efforts of reviewers in improving the various drafts of this report, including members of the IWC's Standing Working Group on Bycatch and the Expert Panel on Bycatch, external reviewers including NGOs and experts on RFMOs. A near-final version of this report was also reviewed by the IWC Scientific Committee at its 2020 SC68B meeting. The report was also shared with the Secretariats of the 16 RFMOs featured for feedback and fact-checking, and corrections were incorporated based on information received, but this does not constitute the endorsement of this work by the relevant RFMOs.
Suggested citation: Elliot, B. 2020. A Review of Regional Fisheries Management Organization Efforts in Addressing Cetacean Bycatch: Report to the International Whaling Commission. Paper CC/68A/06.4.2/01 presented to the meeting of the IWC Conservation Committee, held virtually 28 Sept–2 Oct 2020. 70pp.