This web application uses cookies and other tracking technologies to ensure you get the best experience.
CC/68A/INFO/05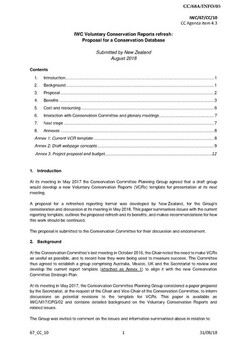 Document Number
CC/68A/INFO/05
Full Title
IWC Voluntary Conservation Reports refresh
Document Type
Meeting Document
IWC Body
Conservation Committee
Notes
At its meeting in May 2017 the Conservation Committee Planning Group agreed that a draft group would develop a new Voluntary Conservation Reports (VCRs) template for presentation at its next meeting.
A proposal for a refreshed reporting format was developed by New Zealand, for the Group's consideration and discussion at its meeting in May 2018. This paper summarises issues with the current reporting template, outlines the proposed refresh and its benefits, and makes recommendations for how this work should be continued.
The proposal is submitted to the Conservation Committee for their discussion and endorsement.
Search for similar resources