This web application uses cookies and other tracking technologies to ensure you get the best experience.
CC/68A/INFO/04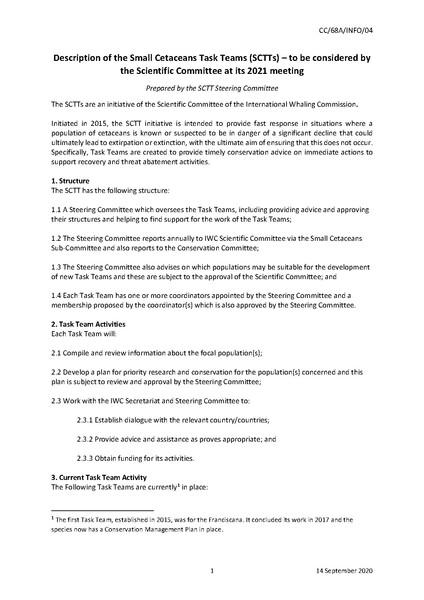 Document Number
CC/68A/INFO/04
Full Title
Description of the Small Cetacean Task Team
Document Type
Meeting Document
IWC Body
Conservation Committee
Notes
Description of the Small Cetaceans Task Teams (SCTTs) – to be considered by the Scientific Committee at its 2021 meeting
Prepared by the SCTT Steering Committee
The SCTTs are an initiative of the Scientific Committee of the International Whaling Commission.
Initiated in 2015, the SCTT initiative is intended to provide fast response in situations where a population of cetaceans is known or suspected to be in danger of a significant decline that could ultimately lead to extirpation or extinction, with the ultimate aim of ensuring that this does not occur. Specifically, Task Teams are created to provide timely conservation advice on immediate actions to support recovery and threat abatement activities.