This web application uses cookies and other tracking technologies to ensure you get the best experience.
CC/68A/13.00/01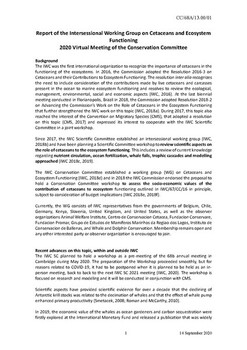 Document Number
CC/68A/13.00/01
Full Title
Report of the intersessional working group on Ecosystem Functioning
Document Type
Meeting Document
IWC Body
Conservation Committee
Notes
The IWC was the first international organization to recognize the importance of cetaceans in the
functioning of the ecosystems. In 2016, the Commission adopted the Resolution 2016-3 on
Cetaceans and their Contributions to Ecosystem Functioning. The resolution inter alia recognizes
the need to include consideration of the contributions made by live cetaceans and carcasses
present in the ocean to marine ecosystem functioning and resolves to review the ecological,
management, environmental, social and economic aspects (IWC, 2016). At the last biennial
meeting conducted in Florianopolis, Brazil in 2018, the Commission adopted Resolution 2018-2
on Advancing the Commission's Work on the Role of Cetaceans in the Ecosystem Functioning
that further strengthened the IWC work on this topic (IWC, 2018a). During 2017, this topic also
reached the interest of the Convention on Migratory Species (CMS), that adopted a resolution
on this topic (CMS, 2017) and expressed its interest to cooperate with the IWC Scientific
Committee in a joint workshop.
Search for similar resources