This web application uses cookies and other tracking technologies to ensure you get the best experience.
SC/68B/HIM/10 Rev1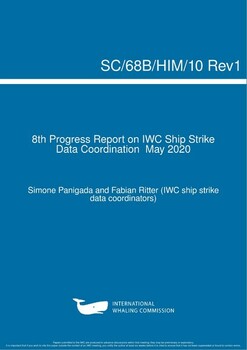 Document Number
SC/68B/HIM/10 Rev1
Full Title
8th Progress Report on IWC Ship Strike Data Coordination – May 2020
Author
Simone Panigada and Fabian Ritter (IWC ship strike data coordinators)
Publisher
International Whaling Commission
Abstract
The activities carried out in the past 12 months resulted in a variety of outreach actions, including the follow-up on requests sent by potential data providers. As recommended by the SC, strong focus has been given to continue and intensify the data review process, while keeping the global ship strikes database updated with new entries and by making sure that every existing record receives the needed attention during the assessment process.
The Data Coordinators, with consultation of the Data Review Group (DRG) have now completed this review process. Several hundreds of reports have been assessed and assigned a case number and, wherever possible, also final category. Thus, all available reports are now listed as cases (n=933) in the data-base.
Since 1st of May 2019, more than 250 new reports have been submitted to the ship strike data base.
The usual contacts with the ACCOBAMS and the Pelagos Sanctuary Executive Secretariats, as well as ASCOBANS, have been maintained to discuss possible synergies in assessing and mitigating ship strikes. There is an ongoing project funded by the Pelagos Agreement on ship strikes in the Pelagos Sanctuary and this will be carried out by a team of international scientists till September 2020.
Through a collaboration between the IWC and the Galway-Mayo Institute for Technology (GMIT), the IWC was able to secure services by student Christina Winkler to populate the data base. Her efforts made it possible to complement the existing data with a large number of ship strike incidents. Another aim was to produce an updated summary and statistical analysis of the complete data set held the ship strike data base.
Two IWC info banners on ship strikes were presented during the World Marine Mammal Conference in Barcelona in December 2019.
Search for similar resources