This web application uses cookies and other tracking technologies to ensure you get the best experience.
SC/68B/O/05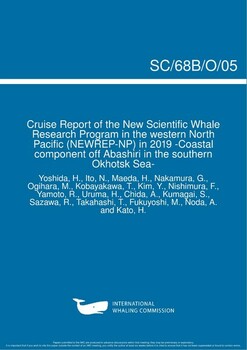 Document Number
SC/68B/O/05
Full Title
Cruise Report of the New Scientific Whale Research Program in the western North Pacific (NEWREP-NP) in 2019 -Coastal component off Abashiri in the southern Okhotsk Sea-
Author
Yoshida, H., Ito, N., Maeda, H., Nakamura, G., Ogihara, M., Kobayakawa, T., Kim, Y., Nishimura, F., Yamoto, R., Uruma, H., Chida, A., Kumagai, S., Sazawa, R., Takahashi, T., Fukuyoshi, M., Noda, A. and Kato, H.
Publisher
International Whaling Commission
Abstract
The third survey of the NEWREP-NP coastal component off Abashiri, was conducted in the southern Okhotsk Sea (part of sub-area 11), from 1 to 24 June 2019. The survey was carried out using five small-type whaling catcher boats as sampling vessels, in coastal waters mainly within about 40 nautical miles from Abashiri port. Common minke whales collected were landed at the NEWREP-NP research station for biological examination. During the survey, a total of 2,486.9 nautical miles (251.9 hours) was searched and 61 schools (62 animals) of the common minke whale were encountered. Sightings of 97 schools (155 animals) of the fin whale, and 5 schools (7 animals) of the humpback whale were also made. Of the 62 common minke whales encountered, 32 animals were collected. Earplugs and eye lenses for age determination and gonad for reproductive study were collected from the whales. Sex of animals caught was biased towards the female (5 males and 27 females), as same with the past two surveys conducted off Abashiri. Average body length of males was 6.04m (SD=1.35, Range=4.14-7.50m) and 7.32m (SD=0.86, Range=5.50-8.40m) for females. All the males were assigned to J stock (100.0%). No males were identified as O stock. Of 27 females, 16 animals (61.5%) and 10 individuals (38.5%) were assigned to J stock and O stock, respectively. A female could not be assigned. Sex ratio of males was calculated as 23.8% for J stock and as 0.0% for O stock. Average body length of J stock males was 6.04m (SD=1.35, range=4.14-7.50m). Average body length of J stock females was 7.18m (SD=0.86, range=5.50-8.11m) and 7.65m (SD=0.75, range=6.01-8.40m) for O stock females. Two of five males (40.0%) and 20 of 27 females (74.1%) were sexually mature. Sexually maturity rate of J stock females was 75.0% (12 of 16 animals) and 80.0% (8 of 10 animals) for O stock females. The 16 of 20 mature females were pregnant (80.0%): eight of 12 J stock mature females (66.7%) and eight of eight O stock mature females (100.0%) were pregnant. Four females were resting. These were all J stock animals. Lactating females were not observed. From foetus body length, conception date was estimated using the growth formula. Results show that the peak of conception was in February and another lesser peak in autumn season. The distribution shape was almost the same as that observed in the 2017 survey conducted in same season. The dominant prey species detected from whale forestomach was krill. All but one animal fed on krill (96.9%). An animal fed on the walleye pollock (3.1%). It should be noted that the NEWREP-NP program was terminated in June 2019 due to the withdrawal of Japan from the International Convention for the Regulation of Whaling (ICRW) on 30 June 2019. Therefore, this paper reports the last survey in sub-area 11 conducted under the NEWREP-NP. Results of the analyses of samples and data obtained under NEWREP-NP will be summarized and reported in the future. Research outputs will be used for the management of Japanese commercial whaling on western North Pacific common minke whales.
Search for similar resources