This web application uses cookies and other tracking technologies to ensure you get the best experience.
SC/68B/O/01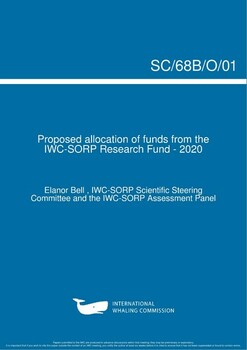 Document Number
SC/68B/O/01
Full Title
Proposed allocation of funds from the IWC-SORP Research Fund - 2020
Author
Elanor Bell , IWC-SORP Scientific Steering Committee and the IWC-SORP Assessment Panel
Publisher
International Whaling Commission
Abstract
This paper summarises the assessment process and proposed allocation of funds from the IWC's Southern Ocean Research Partnership (IWC-SORP) Research Fund following an open, competitive 'Call for Proposals', which opened on 07 October 2019 and closed on 10 January 2020.
An Assessment Panel (The Panel), assessed 9 eligible proposals. Subsequently, the Panel proposed to the IWC-SORP SSC the allocation of a total of £129,955 GBP from the IWC-SORP voluntary fund to 6 projects during the next financial year.
The IWC-SORP SSC would welcome feedback from the Scientific Committee (perhaps via the Heads of Delegation – the mechanism is being developed by the Chair of the Committee in light of the lack of a face-to-face SC meeting this year) regarding the assessment process undertaken and the proposed allocation of funds. The IWC-SORP SSC also seeks agreement to present these allocations to the Finance and Administration Committee during IWC68.
Search for similar resources